News & Events
Apr 23 2016
Fine Arts Exhibition @ GFJC, Lahore
Development in science and technology is certainly important for the material progress of a nation. But at the same time the progress of art and literature is also necessary for a better aesthetic taste and mental and spiritual development. Living nations give attention to this aspect of its individuals in order to make progress.
The Fine Arts Department of Gov. Fatima Jinnah College provides ample of opportunities to the students of this area to enrich their aesthetic tastes and express their skills in this regard. And every year a number of competitions and exhibitions are organized in this respect. It provides a platform to the students to express their positive thinking in the midst of this terrorizing and unpeaceful atmosphere. The Fine Arts Department of this college aims at channelizing the energies of the youth in constructive and creative activities.
This year the Annual Art Exhibition was held on 31st March, 2016 that continued for three consecutive days. The exhibition was opened by the former Principal of National College of Arts and a very active member of this college Mrs. Fouzia Qureshi. Along with the Principal and other teachers, the guests appreciated the artifacts made by the students of all classes from 1st Year to 4th Year. The portfolios were displayed. The students displayed their work in all mediums such as oil paints, water colours, pencil colours, poster colours, pencil sketch etc
"Heritage" was the subject of art/painting this year. The designs of Islamic and Pakistan historical buildings were made.
Furthermore the students showed their skill in making landscape, still life, portrait, textile design but their calligraphy was quite outstanding. A painting competition on the topic of "Heritage" was also held separately for women and children. The participants displayed their skills enthusiastically.
Ms. Farah Khan and Ms. Aqsa Rehan, Assistant Professors of Fine Arts Department of Lahore College for women University, Lahore were the judges. The audience appreciated and encouraged the participants. The Principal and the guests specially appreciated the works of these students and distributed prizes among them. The winners are as follows:
First Year
Dilnasheen 1st
Fatima Arif 2nd
Zainab Farina 3rd
Ayesha Abdul Jabbar got the special prize.
Second Year
Syeda Adila Gillani 1st Year
Haleema Naeem 2nd Year
Iqra Shahid 3rd Year
Third Year
Rabia Saeed 1st Year
Iqra Ijaz 2nd Year
Aqsa Iqbal 3rd Year
Forth Year
Sumaira Butt 1st Year
Sofia Noreen 2nd Year
Sarvera Butt 3rd Year
Rabea Faisal was awarded a special prize and Namra Babar was given special certificate for collage work.
In children's competition Laiba Khalid, Maheen Khalid and Ammad Habib won the first, second and third prizes respectively whereas in women's competition, Ms. Saima Rafiq, Ms. Alia Khanum, Ms. Fouzia Maqbool and Ms. Naseem Akhtar won the first , second and third prizes respectively. The chief guests and the judges were given shields and certificates.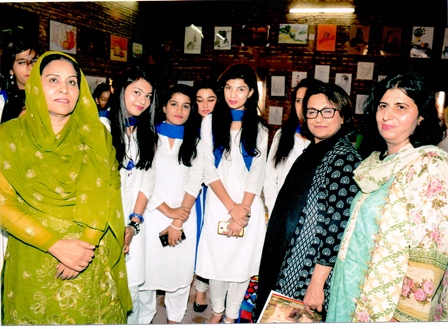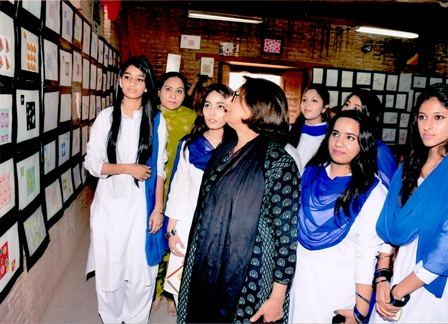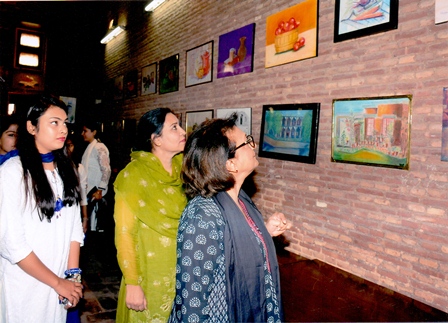 More News